"The Top 30 Most POWERFUL Guitar
Technique Exercises of all
Time...REVEALED!"
I Triple Dog Dare You
to Use These Proven
Exercises For 7 Days and Not Improve Your
Guitar Playing!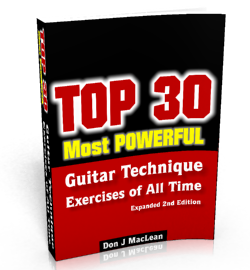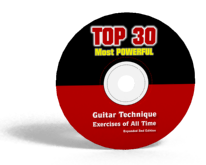 Top 30 Most Powerful Guitar
Technique Exercises of All Time
$25.99 $17 (you save 35%)
Dear Fellow Guitar Player,
I'm sure that you are not 100% satisfied with your guitar playing...
Ultimately, you want to play more accurately, with better technique, and yes, a
bit more speed would be great too.
The Holy Grail
The problem is that very few guitarists know the most effective ways to improve
their technique. Everyone is looking for the "holy grail" of technique-a way to
magically transform their playing overnight to a virtuoso.
But let's face it: very, very, few guitar players actually know the secrets of how
to practice for maximum results. The players that know these secrets want
them to remain TOP SECRET!
It's Shocking But True...
I've taught guitarists of all levels and I'm always blown away by the fact that
98% have no idea of what is actually required to improve their technique and
lead guitar playing. They don't know how or what to practice for maximum
results. This is through no fault of their own. They simply were never shown
these secrets and didn't luck out and discover them on their own.
What's even more shocking is that even some of the pros don't know these
secrets. They have become accomplished players by taking the very, very, long
route. They have put in hours and hours of wood-shedding for years and years.
The reason they can play so well is simply because they are dedicated and have
been playing for so long.
But who has the time to play 8-14 hours a day, everyday for 6-10 years?
Great Technique is Possible
You hear the elite guitarists play with ease, so why not you? You may even
know someone that can play the guitar incredibly well. Why not you?
Only One Thing is Holding YOU Back From Great Technique...
You can start to use 30 potent technique exercises right now and make measurable improvements in your playing this week.
In fact, if you're like most guitarists, you will probably hear improvements in your playing after just 2 or 3 days of using
these exercises.
What Guitarists Have To Say... "...I like this a lot and it works"
Thank you, I like this a lot, and it works
Very fast and brilliant stuff.........thx
"A fantastic product...the best."
"Superb Technique Book, Pleasure to deal with, Thanx"
"Exactly as described. Highly recommended."
Very helpful. Quality publication.
GREAT BOOK A+++++++++++
"Excellent product and super fast delivery A+++"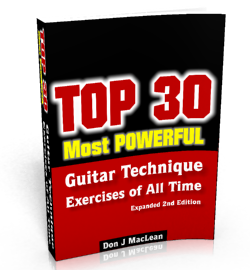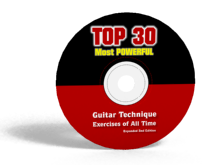 Cut Your Learning Curve at Least in Half!
When you use the proven technique exercises found in the Top 30 Most Powerful Guitar Technique Exercises of All Time, you'll
cut your learning curve at least in half.
"But I Haven't Got The Time"
Having limited time is no longer an excuse for not having the chops you want. You don't have to play for hours and hours to get
results. Don't waste your practice time with things that either won't improve your technique, or will only do so very slowly. You
can accelerate your guitar playing with 30 powerful technique exercises automatically.
Now you can learn the top 30 most powerful guitar technique exercises all in one place.

READING MUSIC IS NOT REQUIRED! Everything is laid out for you in easy-to-read

What is really great about these exercises is that
you don't have to play all 30 to hear
measurable improvements in your technique.

Practice 1-2 a week
and you will
hear and feel great improvements.

Practice 6-12 each week and lookout-people will think you are taking steroids for guitar!

You don't need to know any theory
to put these powerful exercises to use.

These exercises are
perfect for the beginner to intermediate player.

There is no guesswork involved.
You simply read the tab for each exercise and play.

Audio tracks are included
so you can hear what the exercises sounds like.

You'll be playing these exercises from memory in no time.

Don't forget one of the hidden benefits to improving your technique.
As you improve your
technique, you'll learn songs much faster.

With your new great guitar technique, your only concern will be: Which songs will you
learn next?

Comments From Guitar Players...



"...Superb guitar book, this guy will teach
you all you need."
EXCELLENT SELLER, Superb guitar book, this guy will teach you all you
eBayer youvegotanotherthingcomin
I have just purchased my second set of books to complement the
ones I bought the other day.
I look forward to plowing through these new lessons, but more
importantly, having them always on hand (on my iPad) to keep the
Best Regards, Richard Russell
Great Product !! Fast Deal !!
GOOD!!
Great learning tool. Thank you !
A good product, no problems with download.
Great help
HAPPY WITH TRANSACTION. THANKS
Excellent product, unmatched customer service - will have my
Good stuff
Fantastic item from an excellent ebayer - thanks!
Product as described, working on the techniques already, A+++
EXCELLENT SERVICE, GREAT PRODUCTS A+++
Lots of exercise for the fingers and good advice on practice
A+++++++
Good stuff, quick and easy download
Wow! First glance shows top-notch materials.
Awesome product - makes it all so simple to understand as a
novice guitarist
Here's More Comments from Satisfied Guitarists...



"Excellent book. Was greater than expected.
Wow..."
"Excellent book. Was greater than expected. Wow. Thanks"
Good exercises. The arpeggio section is great and well laid out.
Thanks!
Great item, great seller, the information recieved is great for any
guitarist.
Thanks better than advertised
Good stuff
Great book - this guy rocks!!!
A+ product!
Great value and super good lessons
Great product, very responsive seller
Nice exercise to be better at guitar.
Excellent fast delivery interesting concepts looking forward to
using them
Easy directions thanks AA++
Exactly as described, fast delivery, recommended, AAAA++++
A+++ Great Ebayer. Highly recommended
Nice book. fast and easy delivery. thanks
Awesome!
Very good thanks
Great lessons for any level....worth the money...thanks alot
Very nicely presented and great value. Thanks. Highly
recommended.
Excellent items Super Fast Access! Exactly as described! A+++
Thanks for the guitar info!
Awesome Techniques for a player of any skill. Quick Delivery. Will do
Another great product. seller rocks. buy his stuff
- he'll make you not suck!!!
The Top 30 Most Powerful Guitar Technique Exercises of All Time will totally transform your technique in these four critical




Sweep picking
Who Am I and Why Should You Listen to Me?
I have taught music for 25 years, earned my degree in music, authored more than 60 books, played with too many bands to
remember, and taught numerous master classes and workshops.
I have always been fascinated by how we learn music, so I also completed a degree in psychology and did some graduate studies in
neuroscience as well. With all of this intensive studying and practicing,
I have discovered some little known secrets that will
save you massive amounts of time and give you results you never thought possible.
In other words, I've spent most of my life performing music, studying music and learning the best ways to teach it. I've got
students in more than 50 countries worldwide that are using my courses to advance their playing.
Here's Even More Proof from Guitarists That These Exercises Work..


"Really improved my playing after 2 weeks"
Very fast!! Top stuff! Really improved my playing after 2 weeks
Very cool tips. Will be shredding like a pro in no time.
Instant communication, great book, easy to read full of information
and tips A+
Very informative and inexpensive!!!
Great communications, nice dealing, highly recommend, thanks.
Very helpful seller. Product as advertised. Thanks
Great item!
Quick response, good product. would recommend
Item received as described. Thank You.
Excellent communication, great product. Recommended, A+++
Recommended seller. will surely use lesson to improve my
technique. AAAAAAAAAA+
Good communication. Got it Superfast! Thanks for the great tools!
Cool e-book, great lessons and exercises, A++++
Again, a fantastic product. Extraordinary and friendly seller. The
best.
Good exercises. The arpeggio section is great and well laid out.
eBayer the_ibanez_parts_shop
Arpeggios and practice songs very useful
Great lessons, thanks
Very useful exercises! recommended to all
Great Guitar Resource! Also, very patient and understanding e-bayer.
Superb Technique Book , Great Communicator, Pleasure to deal with,
Great communication and the techniques work really well - Great

As you can probably guess from the title of this book, the exercises included here are by far the most effective technique
exercises ever known. These exercises have proven themselves to be highly effective time and time again.
These exercises are so powerful, that I still use them in all of my practice sessions. In fact, I can't imagine a practice session
If you've ever wanted to improve your guitar playing, but always thought that it was not easily within your reach, then this is the
course for you. Act now to also get your 3 FREE bonuses worth $49.91.
Act Now to Claim Your 3 FREE Time-Limited Bonuses...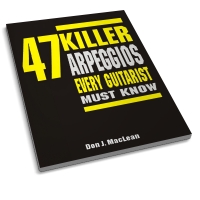 47 Killer Arpeggios Every Guitarist Must Know
47 Killer Arpeggios Every Guitarist Must Know gives you 47 super-cool
arpeggios. Some are easy to play, while others are monsters. The bottom
line is they all sound great!
A $14.97 Value, Yours FREE! Finger-Style Master Class: How to Finger-Pick
Chords
In Finger-Style Master Class: How to Finger Pick Chords you learn exactly
how to apply finger-picking to chords. You get 48 finger-style exercises
that will build your finger-picking chops. Also included are 3 cool finger-
After you work through this master class you'll never be stuck trying to
come up with a finger-picking pattern for a chord progression! Examples
are shown in tab, standard notation and fretboard diagrams.
A $19.97 Value, Yours FREE!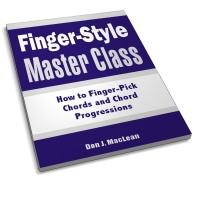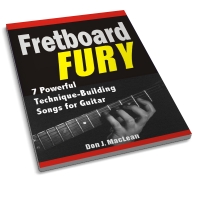 Fretboard Fury: 7 Powerful Technique-
Building Songs
The title says it all: Fretboard Fury: 7 Powerful Technique-Building
Songs. In this special report you learn 7 pieces that will challenge you
and improve your guitar technique.
These pieces sound great at any tempo and will allow you to perfect your
vibrato, alternate picking, hammer-ons and pull-offs, and sweep picking.
A $14.97 Value, Yours FREE!
You can continue to practice what you've always practiced, or you can give the Top 30 Most Powerful Guitar Technique
Exercises of All Time a try risk free. Your satisfaction is 100% guaranteed so you have nothing to lose and great chops to
gain. So grab your copy now for just $17.00.
MY IRON-CLAD TOTAL SATISFACTION GUARANTEE TO YOU
Get your copy of the Top 30 Most Powerful Guitar Technique Exercises of All Time today,
and try it out for 90 days. If it doesn't dramatically improve your technique, or if you decide
for whatever reason, that this book is not right for you, just let me know within 90 days and
I'll give you a no-hassle refund.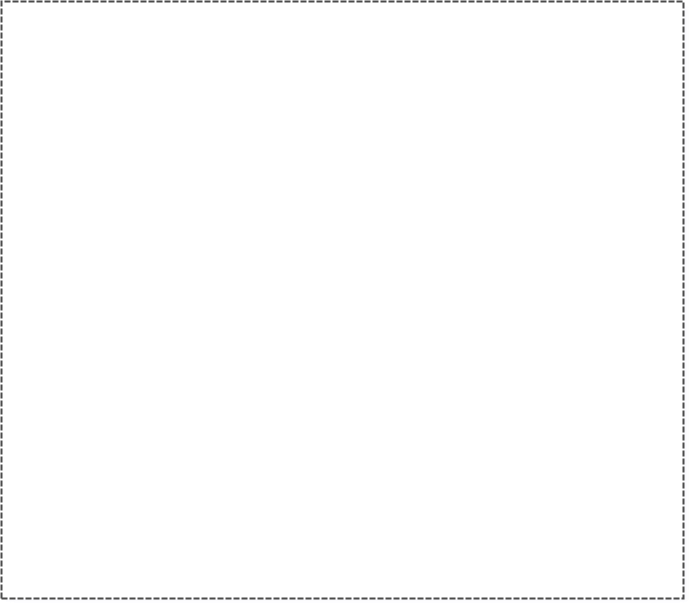 Yes! I am taking you up on your great offer today for a fully-printable digital edition of
the Top 30 Most Powerful Guitar Technique Exercises of All Time for just $17.
I know if I act now I'll also get my 3 free bonuses worth $49.91!
And I also know that my satisfaction is guaranteed. I can try out the Top 30 Most
Powerful Guitar Technique Exercises of All Time for 90 days risk-free. If I'm not
completely satisfied I will receive a full refund and I get to keep the bonuses for just
giving the Top 30 Most Powerful Guitar Technique Exercises of All Time a try.
I am getting a copy of the Top 30 Most Powerful
Guitar Technique Exercises of all Time Course with
audio tracks and 3 limited-time bonuses for only $17
with Visa, MasterCard, Discover, AMEX, or PayPal.


Risk Free Acceptance Form
YES! I Want Instant Access Now!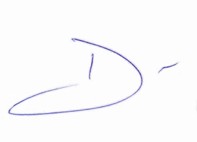 Don J. MacLean is one of the world's leading authorities on accelerated learning systems for guitar---with students using his
P.S. Don't you owe it to yourself to improve your guitar technique right now? If you're just going to do one thing for your playing,
use these exercises. I guarantee you won't be disappointed. Give the Top 30 Most Powerful Guitar Technique Exercises of All
Time a try today, 100% risk-free.
P.P.S. Act now to ensure that you get your FREE bonuses worth $49.91!
There is a Better Way. What Are You Waiting For? Take YOUR Playing to the
Next Level Today! The files are in PDF format, so you can view it on your computer screen, or print
off a hard copy for yourself. You can also read them on a smart phone like the
iPhone. The PDF files can also be read on tablets like the iPad. The audio tracks
are in MP3 format so you can listen to them on your computer, iPod, or other MP3

Once your payment is received, your download link will be sent to the email
address you provided during payment.
You will need two pieces of software on your computer to open the ebook and
bonuses. You'll need an extraction program such as WinZip to extract the
download file. Most computers come with this program pre-installed. If you don't
You'll also need the free Adobe Acrobat Reader to view this e-book. You can
If you should experience any difficulties with the download just send an email to:
support@guitaraccelerator.com

Products
Support



© Copyright 2012 Don J. MacLean. All Rights Reserved.